This is dedicated to the religious pioneers in genealogy, which migration through the United Kingdom utilizing the Brigham UK surname as an example, as symbolized by the Brigham pioneers of 1847 immigrating down Immigration Canyon into the valley of  The Great Salt Lake.  Where today is found the genealogical Family History Library Salt Lake City, Utah, based on the concept of record search and sharing to find family.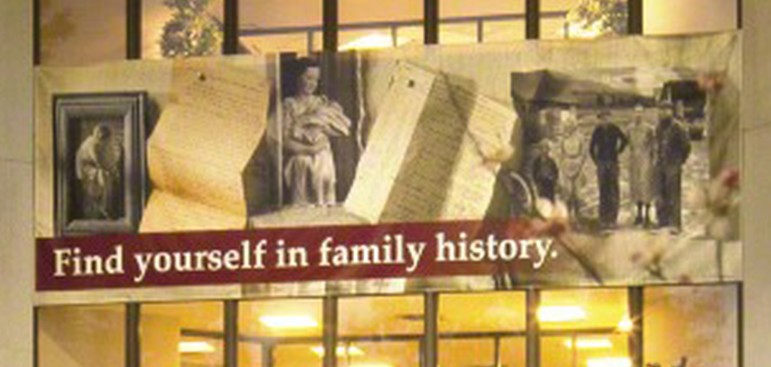 Front of Family History Library FHL, Salt Lake City,Utah.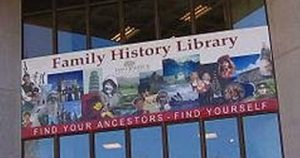 How family members are being successful at family history;
The family knows best.
Listen to others, especially of the opposite sex, to make family.
Do not in a family search, get rid of the in-laws (Xs), though you may want to.
Families fight, and likely not just one answer is correct, in the history.
If the family's history is done properly one does not get to pick their ancestors.
Though, in 1965, I could remember visiting Salem, Massachusetts, and sites of the trials, as my father presented the concept of many great testifying at in the trials, with no interest sustained in what, Loren Spencer Elliott, had to say. He is difficult to disagree with when it comes to genealogy. From Gallup, New Mexico, to the First Church of Salem, Massachusetts, to digitize a record previous to the Salem Witch Trials in 1688, which verifies that Mary Lambert is not the wife of Daniel Elliot, which left testimony for the Salem Trials;
Difficult-to-Transcribe-plus-Confusion-and-a-Result-with-Clarification (1)
Sometimes it with accurate documentation, people who feel they are of authority, will interpret out of the utmost accuracy, that the testimony is a lie. In genealogy, this creates a lie out of what is accurately portrayed a genealogical block in the family research. With the high authorities of the Salem Trials this created nineteen innocent hangings with one being crushed.
The true family genealogist, is the one of their family's genealogy. The false genealogist is one outside the family which feels that family member is a liar.
The approach of integrating DNA into genealogical research is needed to be proper, and by the family themselves. It is getting these days which non genealogists because true family genealogists share information, are trying to monopolize sizable amount of family information by creating DNA blocks, of people they are doing research for, but excluding information showing family links. Like my father Loren Spencer Elliott before me I like to share family history with family, that is what family historians do. He did go to a cost of doing this by printing mainly on a dot-matrix printer and distributing. His information was put online but not by the privacy standards of The Church of Latter Day Saints; Family History Library and Centers or their online site; www.familysearch.org, which the living are excluded. So when I share, it digitally (it was at first dad's cost deceased at 92, Loren Spencer Elliott's cost now it is at my cost; Mark Stephen Elliott, at over 70) with information added by the next generation, going back in time, am following in dad's footsteps. The people I been adding are many generations deceased.
When people share family history information on a DNA genealogical blog, and an individual is kicked out for sharing information, then it is no longer genealogical blog. This controls the sample which the blog is taking information from, therefore creating a false genealogical output, though looked truthful,  creates history, but for family history is useless.  A family genealogist receives large amounts of information the extremely small amount picked out for their particular family is highly relevant, but may be total irrelevant for others including the blog's administrator.
This is what my father put into the family history, on me his oldest of three sons, Mark Stephen Elliott;
Mark Stephen Elliott by Loren Spencer Elliott

Before the Family History Library was built in Salt Lake City, Utah, had been utilizing it for genealogical research to assist dad. It was something father and son could share at the time.
In a period of learning genealogy, it seems like people being paid to do research for others in the upper levels of the Church of Later Day Saint's Business Offices, took an interested because they knew my approach was that of a hobbyist, and historian for my family, where I was assisting father in research.
It should be noted that research was being done on the Franklin family.
We did donate research to the Family History Center, Mesa, AZ.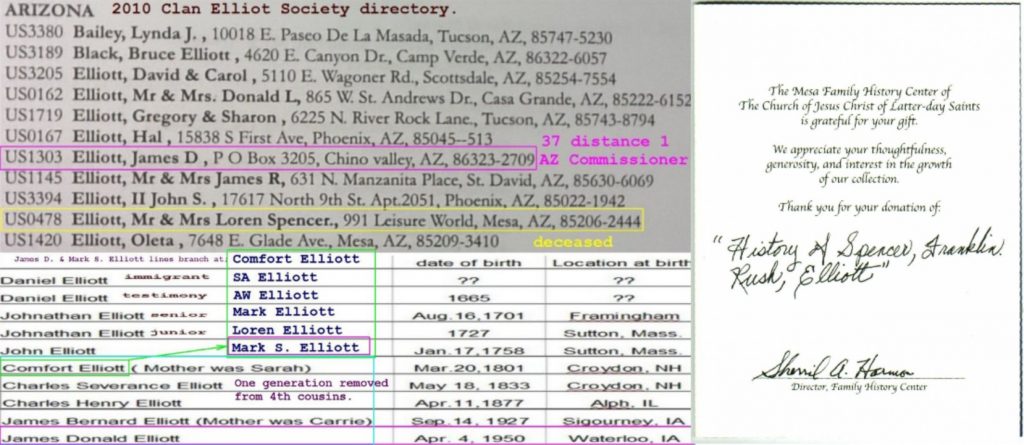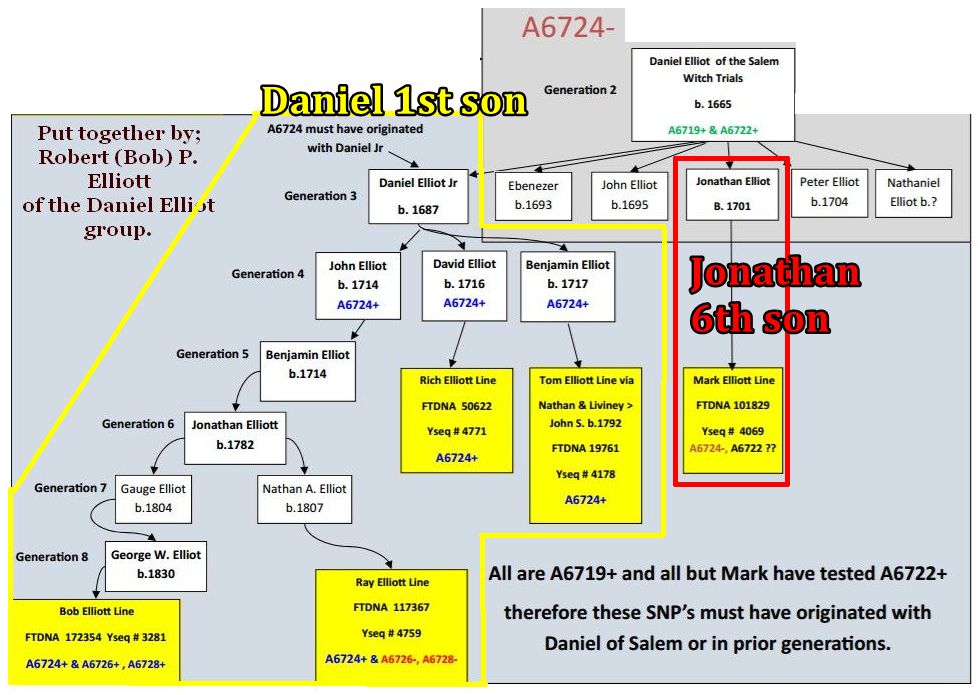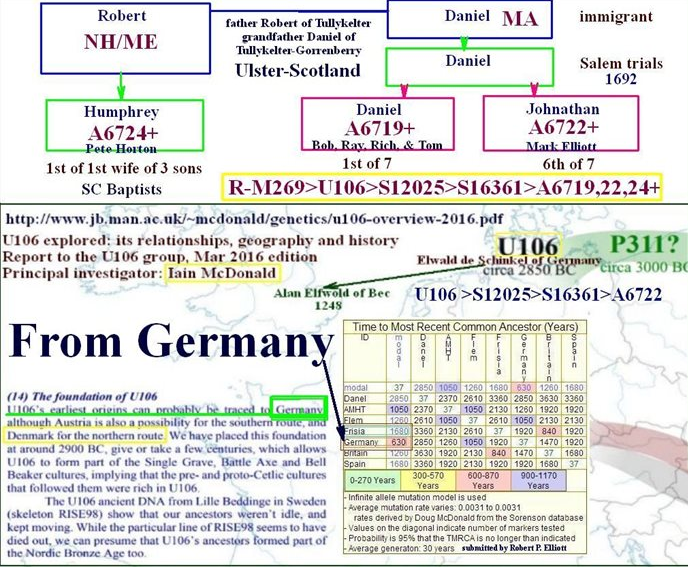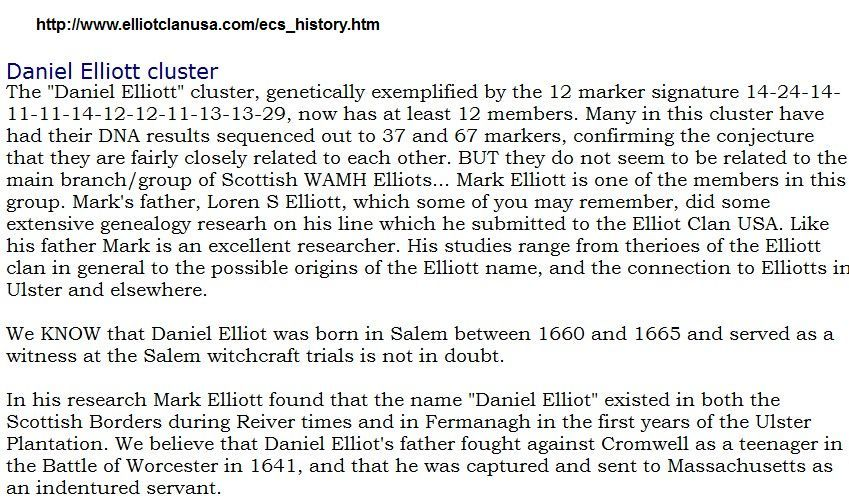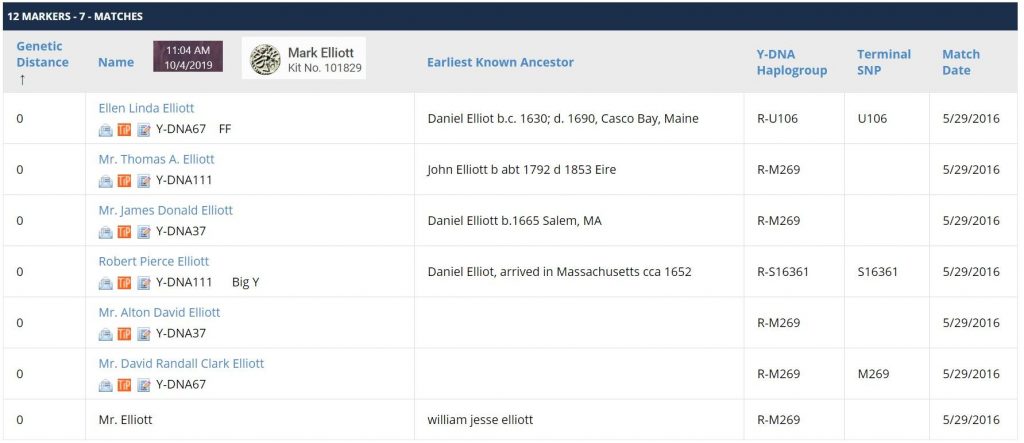 Note William Jesse Elliott is not in the 37 marker test, so the others are. Horton name excluded, six of the above are matched to 9 of the below. So three at the 37 marker match do not match me exactly for the first twelve markers. (10/4/2019 MSE). About one out of three. The three which gave marker placement in Ireland, Ray E. Elliott, does not show an exact twelve marker match.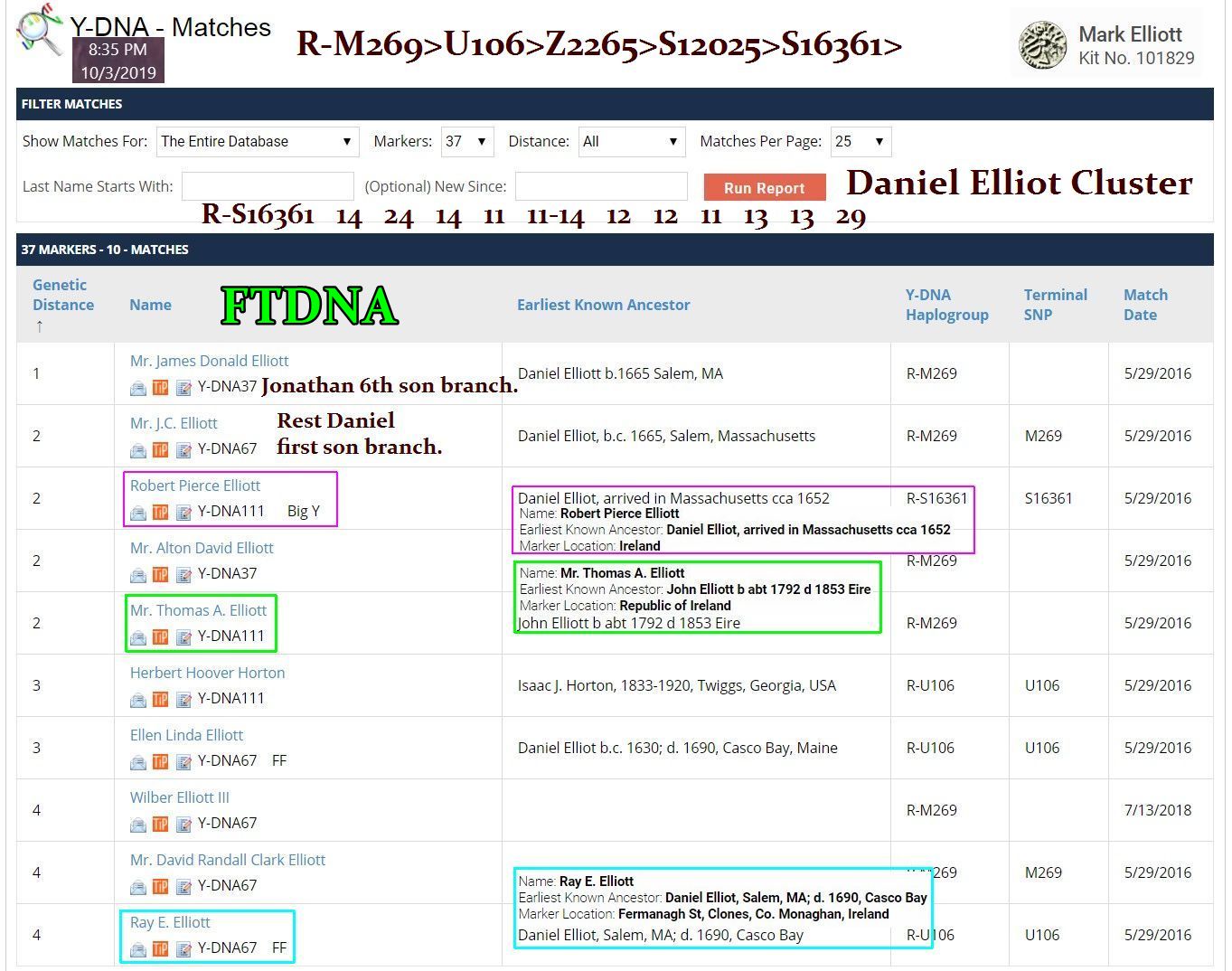 Herbert Hoover Horton, NPE, likely of Daniel's older brother's branch Robert Elliot, out of Great Island, Portsmouth, NH-Kittery, ME region, migrated later seventeenth century to near Charleston, SC, to establish the Baptist in the southern states. (added 10/3/2019 MSE).
Which did include Franklin Research.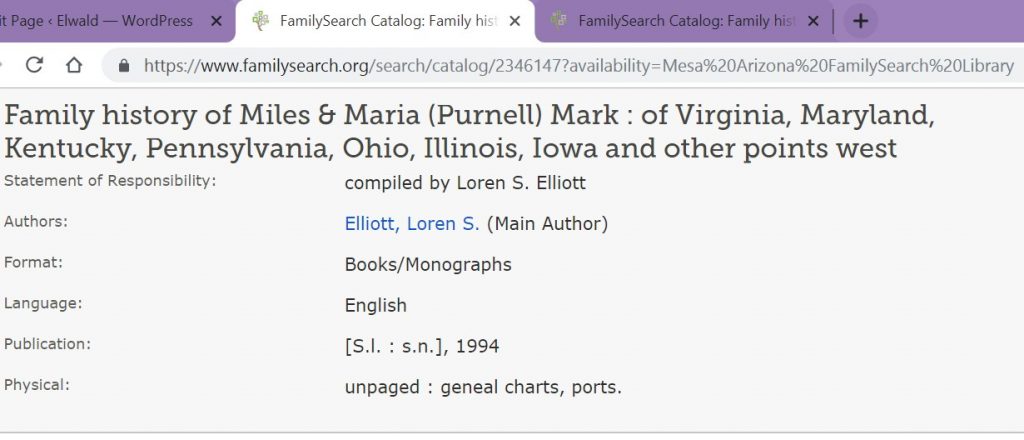 Where the donation is recorded in familysearch.org as above.
Which relates well to the surname, I received my first forename from. That is where I felt that the name Brigham came from a surname.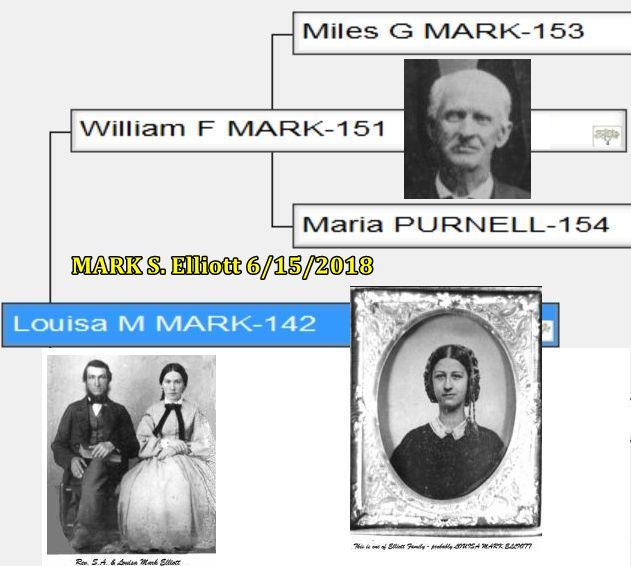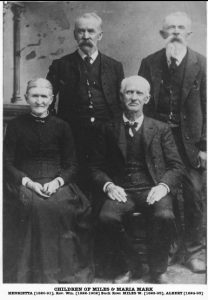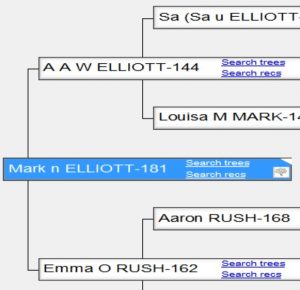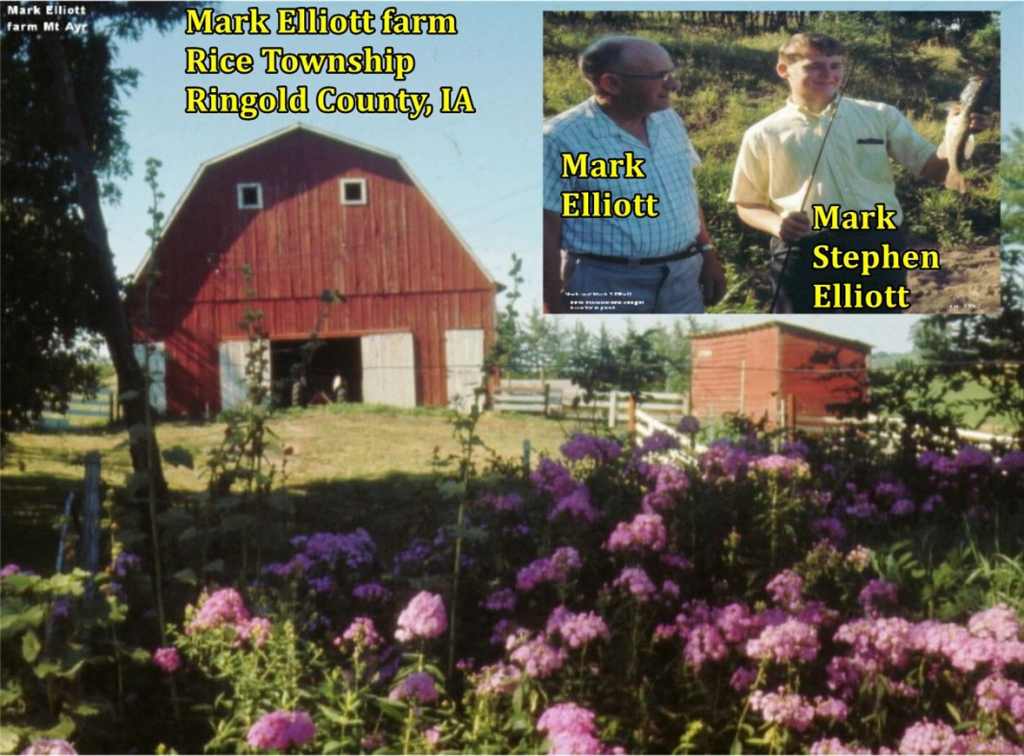 (Ringold, should be spelled Ringgold 9/19/2019)
My name Mark, of Mark Stephen Elliott, became a first name of granddad Mark Elliott, then became my first name also. Did know Emma Onna Rush Elliott.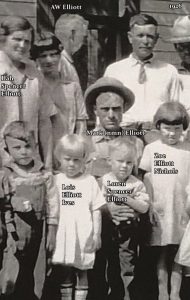 Will  Elliott (William `Will' Comfort Elliott, correction 9/30/2019 MSE), Emma E. (Emma Onna Rush Elliott, correction 9/30/2019 MSE), back row left, grandad Mark (grandma Ilah on his right) is keeling, the twins Lois and dad Loren are from center. Emma, Ilah, and Mark, Loren and Lois, I have known, AW ['AW'-'Al' (Allamando Wilcox) correction 9/30/2019 MSE],  was deceased when I was born. Jack, came later.
(note; for some genetic color, Ilah, and oldest daughter Zoe, both have red hair)
In Rose Hill Cemetery, Mt. Ayr, Iowa, are the stones of William Comfort Elliott, AW Elliott, Emma Onna Rush Elliott, Ilah Melinda Spencer Elliott, shared with husband Mark (no middle name) Elliott. The oldest stone in the Elliott plot is that