Crozier Censored
Clan Crozier  has been censored and deleted from Wikipedia though it had a lot of activity.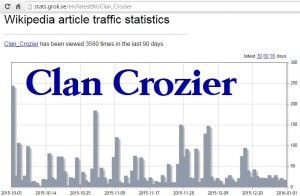 Information contained in;
As compared to the Wikipedia site which had activity;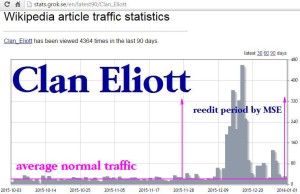 The peaks and most of the activity was caused by censored information to the Clan Eliott site of;
Composed by Mark S. Elliott, but like Wikipedia article Clan Crozier, the Clan Elliot information was also censored from the Clan Eliott site.
Why Censored?
If historians, can not use deeds (sasine) in the history, then what are they using?

Valid reference on graphic;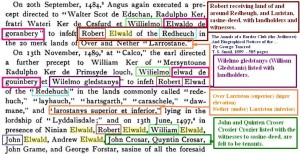 https://en.wikipedia.org/wiki/File:Sasine_deed_1484_for_Robert_Elwald_(Elliot),_Redheugh,_Larriston,_Hartsgarth.jpg
The Annals of a Border Club (the Jedforest): And Biographical Notices of the Families 1899, George Tancred
Map verifies the Lariston lands of Redheugh;
Because the deed of Redheugh, Lariston, Hartsgarth and other; to the Clan Elliot chief's land is old does not make it invalid.
Mark Elliott   1/12/2016
Search engine bias by adding a 2 to elliot;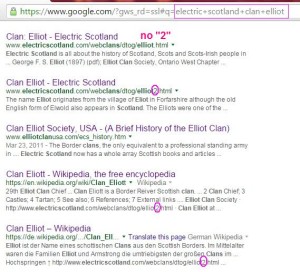 Try;
www.electricscotland.com/webclans/dtog/elliot.html
www.electricscotland.com/webclans/dtog/elliot2.html
and see for yourself.
QuintusPentillus of Clan Eliott Wikipedia linking to;
Can anyone figure out who QuintusPentillus is?
MSE  1/14/2016
Can't be the work of MI6NBW, can it?
MSE  1/15/2016
MSE   2/8/2016
First Lines from Crozier in Canada and New Zealand;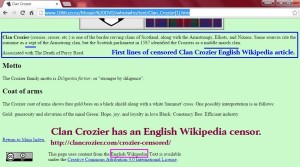 Mark S. Elliott 2/16/2016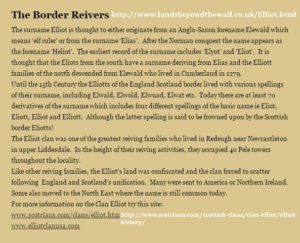 Try links;
Of above;
http://www.landsbeyondthewall.co.uk/Elliot.html
Link provided by above;
http://www.scotclans.com/clans/elliot.htm
Now link from scotclans.com giving today's modified history;
http://www.scotclans.com/scottish-clans/clan-elliot/elliot-history/
MSE   4/15/2016
If you are publishing to Wiki, please use above code.
It's called picking up the pike from the fallen to continue on.
Mark S. Elliott 5-23-2016