Crozier Ulster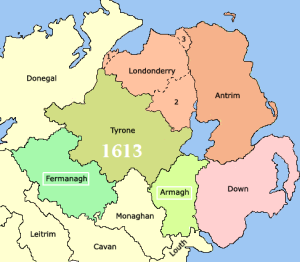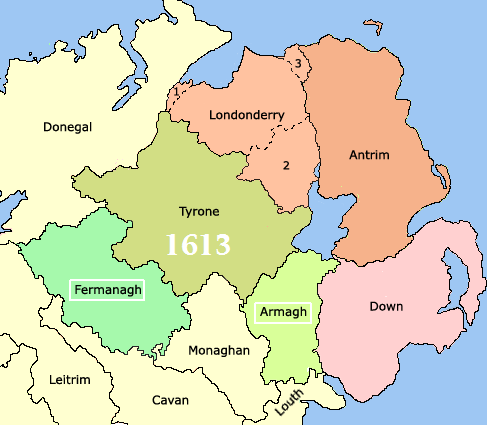 World Names Public Profiler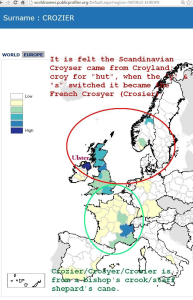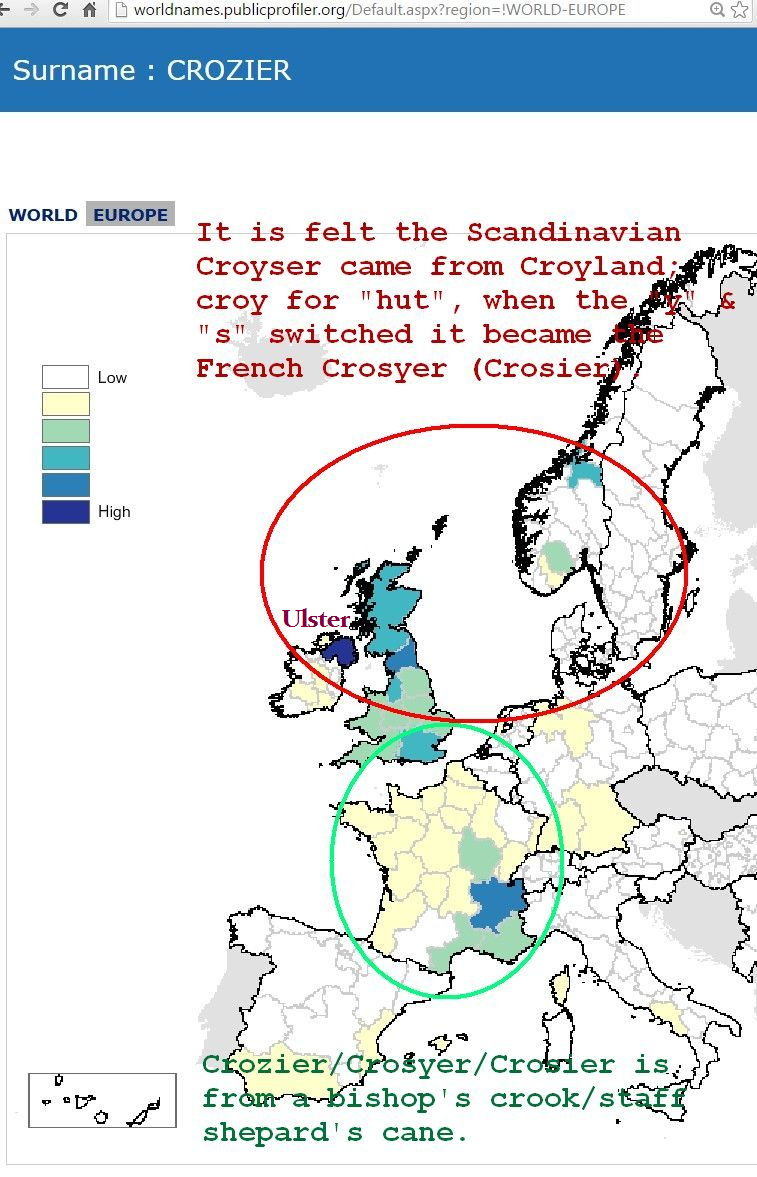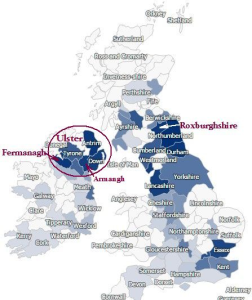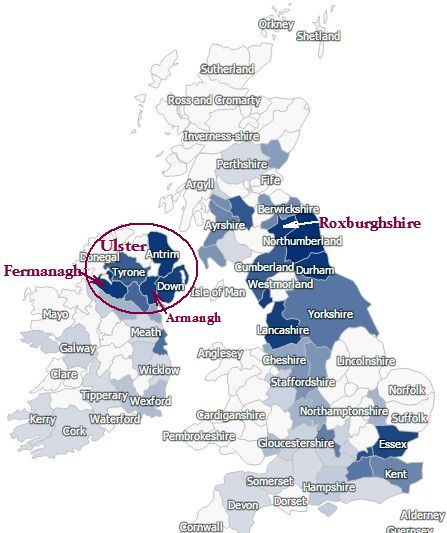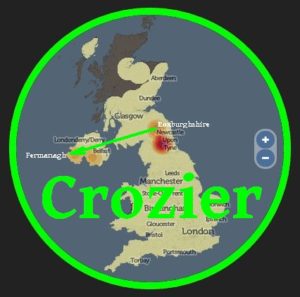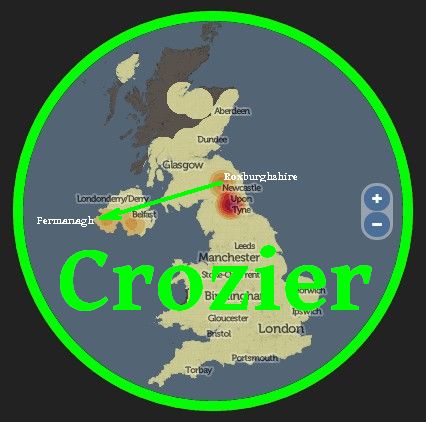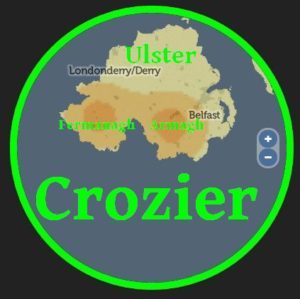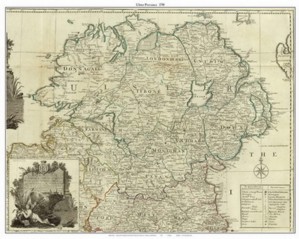 3.4 Fermanagh
The relation between the Crosare (Crozier), Elwald (El
lot), Home (Hume), in the Minto (Wolflee/Wolfhopelee)
regions is shown in a Declaration of Sasine to David
of Home 1436, when a Johannis Elwald, and a Ja
cobi Crosare witness the deed of David Hume receiv
ing land from of Wolflee and Wolfhopelee from William
Douglas.[1]
John Croser sword only is listed in the ca1630 munster
rolls of Tully Castle (1630 Tully, Monea, and Tullykelter
Castles exist, but Castle Hume was built later[59]) the
Barony de Magherboy, Fermanangh, Ulster. Croser, El
lot and Hume in this same region as found two centuries
earlier, in southern Treviotdale with Sasine of David
Hume.[2]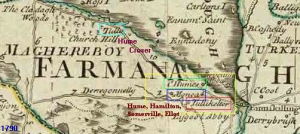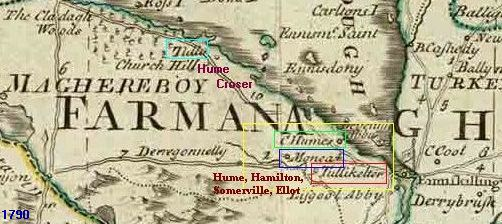 Maghereboy, Fermanagh, Ulster, Hume, Hamilton and
Somerville lands of Tully, Monea, and Tullykelter Castle lands.
In 1659, Crozier were listed in the Census of Fermanagh/Armagh, Ulster.[3]
[1] Report on the Manuscripts of Colonel David Milne Home
of Wedderburn Castle, Issue 2 Great Britain. Royal Com
mission on Historical Manuscripts H. M. Stationery Of
fice, 1902 – Home family
[2] A Genealogical and Heraldic History of the Extinct and
Dormant Baronetcies of England, Ireland and Scotland
John Burke, Sir Bernard Burke J. R. Smith, 1844 page
608
[3] The history of Enniskillen with reference to some manors
in co. Fermanagh, and other local subjects by Trimble,
William Copeland, 1851-1941 Published 1919
In 163- Ulster muster a John Croser is listed in Magherboy,Fermanagh, Ulster on the estate of  George Hume of Tully Castle.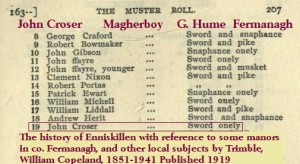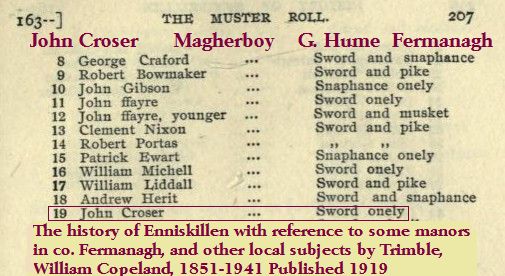 William Grocer (Croser), also of Magherboy, Fermanagh, on the estate of Sir W. Cole;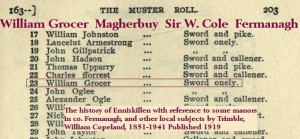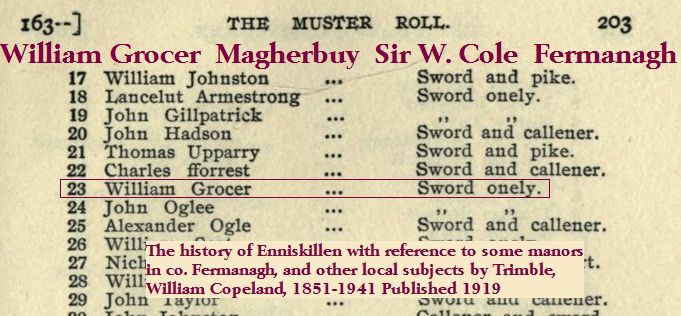 It is felt that early Crozier migrated to Boston, in the American Plantation;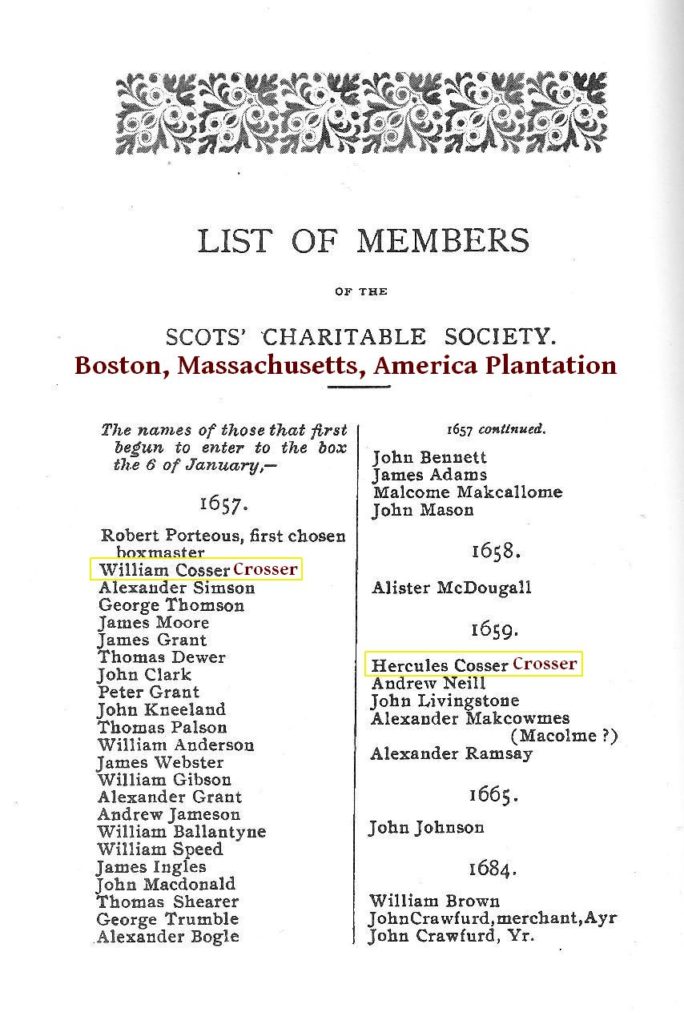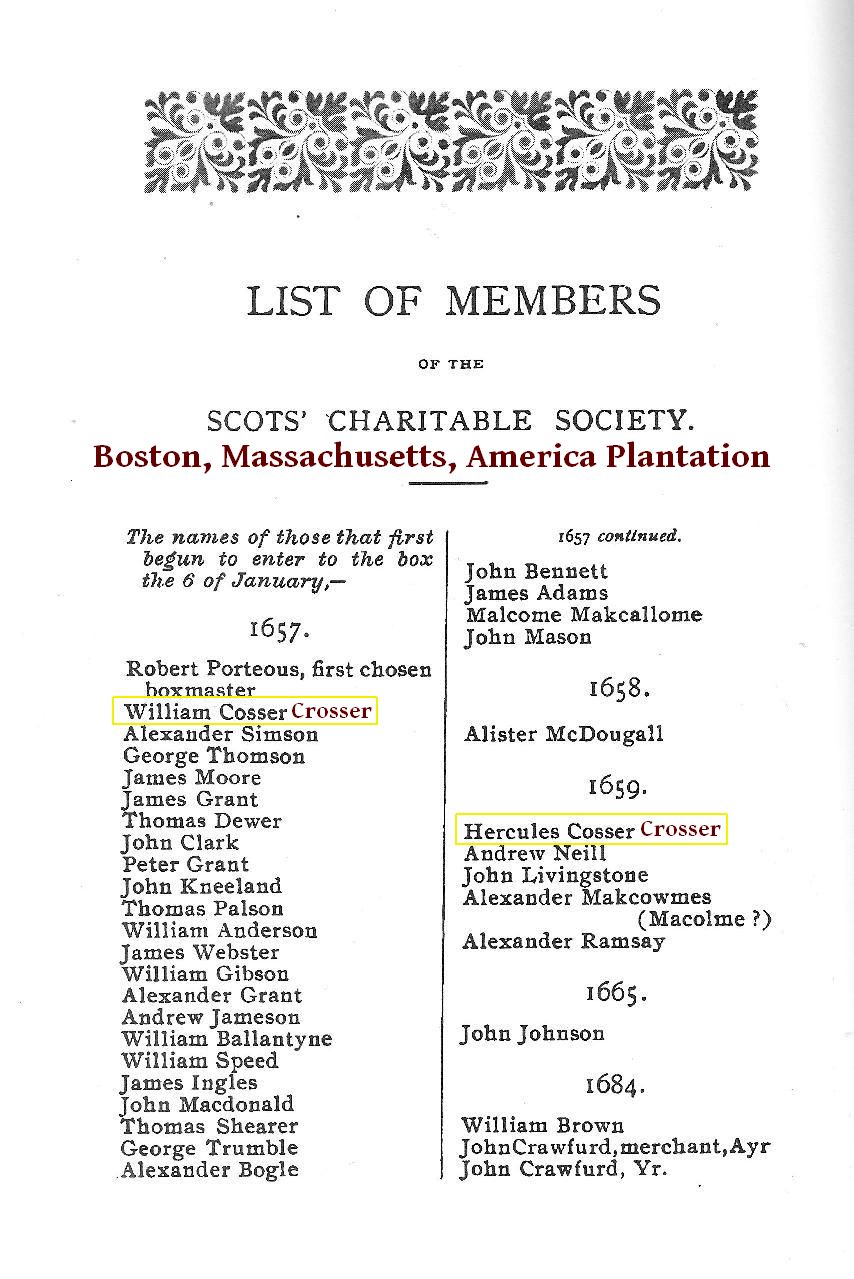 Another William Grocer (Croser) is listed in Dungannon, Tyrone on the estate of Captain A. Sanderson Tyrone Ulster muster 1630 [3].
MSE   2/3/2016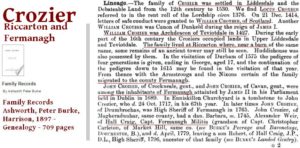 MSE 11/2/2016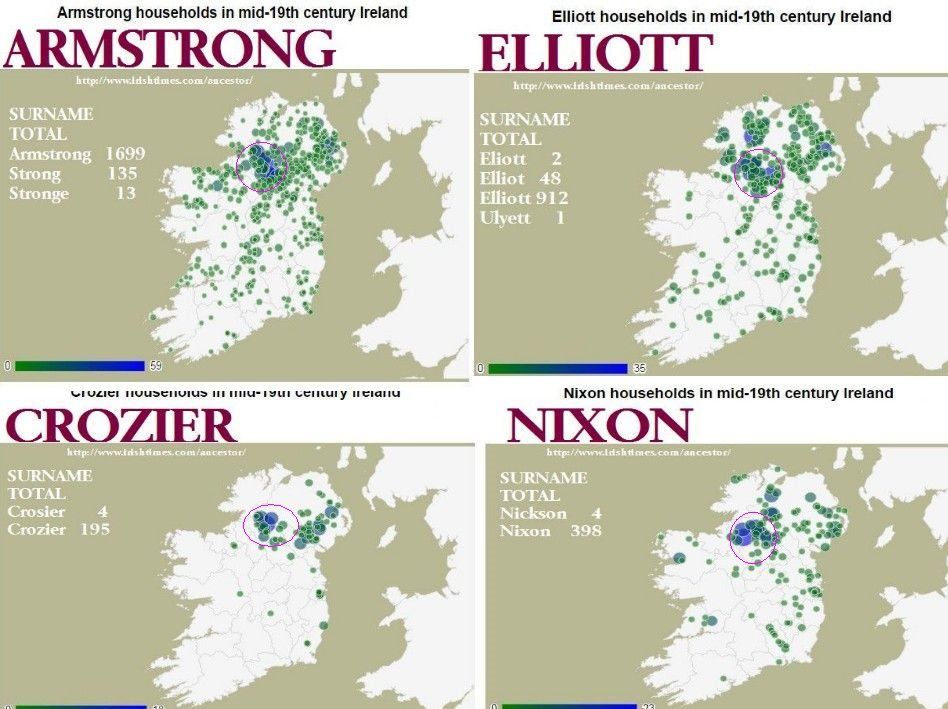 c. 1630 Ulster muster;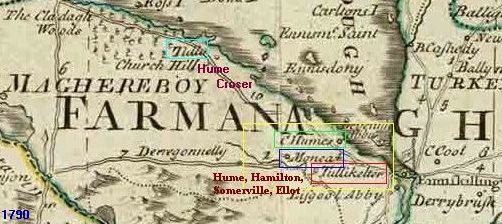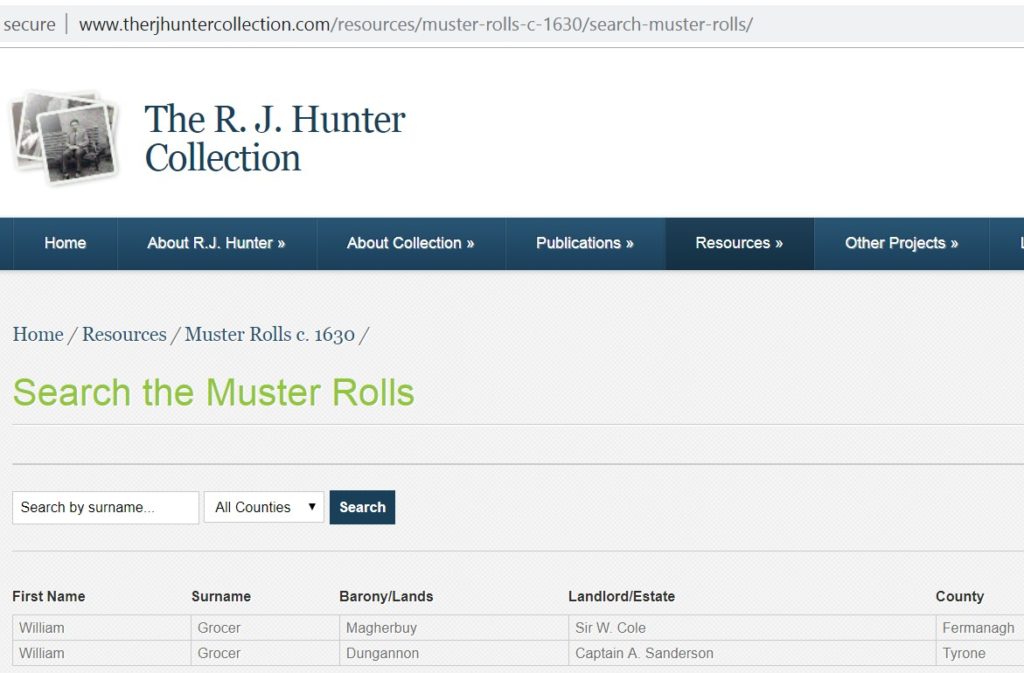 2/3/2019 MSE